One of the most interesting architects o build in Chicago was Bertrand Goldberg. Known for many works, especially his Marina City, and River City projects. He had other projects in and around the city, unfortunately, I did not have a chance to photograph them.
Upon seeing this view, I was awe struck. With both parents being architects, I had known of this project since I was very young, yet I never imagined actually seeing it up close.
More pictures to follow…
Here We're right below the buildings, and I nearly got the perfect shot looking up.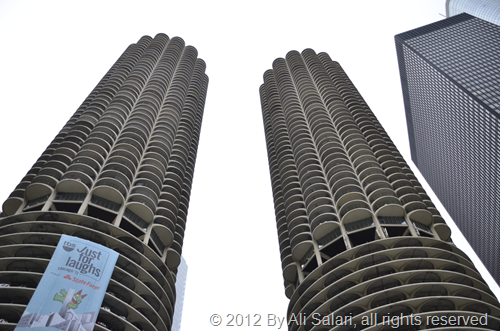 And here, a close up of the Parking garage:
A close-up of the top of one of the buildings.:

Of course, the other famous project is River City 2, and here we are approaching it as we head through the south tributary,
Here's River City 2, as we are passing it.
Here is a view of River City 2 from Above on top of Willis Tower.
And Finally, At the request of my mother…